Meta Description tags "may" (but not always) be used by Google to create the two lines of text (ie: the snippet) used in the search results. But what happens if you don't have a Meta Description tag? In the past, Google would nearly always take the first paragraph of text from the page and use it for the search snippet. Here's an example. Note that Wikipedia does not use Meta Description tags. Notice that that the snippet and the first paragraph (or first P-Tag) are identical.
Wikipedia Google Search Snippet
---

First Paragraph of Wikipedia Page
---

Recent Observations
A couple of days ago I decided to remove Yoast (I hate it!) from my plugins and that meant that I lost all of my Meta Descriptions. I could have used an alternative plugin but I've decided to ditch Meta Description tags altogether and optimise my visible page content instead. I've never enjoyed writing Meta Description tags and I'd rather focus my energy on visible page content. After a couple of days, Google updated its search snippets and I was amazed to see that the snippet was based on a H1-Tag, H2-Tag, a title attribute from an inline image and the first P-Tag. Notice that in the following snippet it says "SEO-training-infographic-tx". This was the title attribute of the image.
Search Snippet for "SEO Training Courses"
---

Above the Fold Page Content
---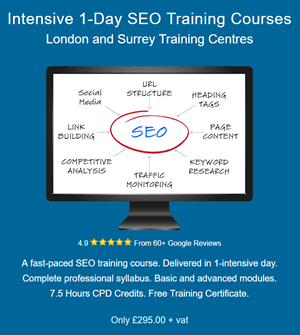 After Updating the Title Attribute for the Image
---
I immediately updated the title attribute of the image and the next day the snippet changed to the following. Notice that the text "SEO-training-infographic-tx" has been changed to "10-standalone modules".

Lessons Learned
So what did I learn from this.
You can craft an engaging snippet without using Meta Description tags.
It's important to review and periodically tune your page tags.
It's important to write meaningful text in image title-attributes.
https://www.londonwebfactory.com/wp-content/uploads/2016/10/meta-description-tags.png
317
843
Adrian Smith
https://www.londonwebfactory.com/wp-content/uploads/2019/05/logo-1.png
Adrian Smith
2016-10-25 10:47:04
2016-12-08 14:58:35
No Meta Description Tag – How does Google handle it?